Daytona Banquet Hall Packages and Pricing
---
Benefits of Our Daytona Beach Party Venue
If you're looking for a beautiful party venue in Daytona Beach to host your upcoming wedding or celebration, The Crystal Ballroom can help. As Orlando's favorite wedding venue, we offer our clients customized event planning and event design solutions. Whether you're planning a wedding, a work celebration, or a birthday party, we have everything you need to create a memorable event. Browse our Daytona Beach Gallery online to view some of our past events or contact us today to learn more about our beautiful party venue!
Indoor & Outdoor Weddings in Daytona Beach
Have you always dreamed of having an outdoor Florida wedding along the water? At The Crystal Ballroom in Daytona Beach, you have the option of hosting your event either inside or outside our extravagant venue. Our event planners have years of experience when it comes to wedding planning and we can help you choose interior decor to match your vision. From choosing the venue lighting options to deciding on what centerpieces to display, we're proud to be a one-stop-shop for many brides- and grooms-to-be. If you already have a specific Orlando catering company, florist, or DJ in mind, don't worry. Unlike other party venues that prohibit outside vendors, The Crystal Ballroom allows you the freedom to secure your own outside vendors without having to worry about added fees! Browse our list of Florida vendors online today.
Event Venue & Design Services in Florida
When it comes to planning a wedding, quinceañera, or any other kind of celebration, there are many important details to keep in mind. When you book an event at The Crystal Ballroom in Daytona Beach, our experts will help you decorate your banquet hall at no additional charge. If you have already decided on hosting your party at a different Orlando venue, you can still utilize our Event Design Services at an affordable price. Contact The Crystal Ballroom in Daytona Beach to learn more!
---
Friday Extravaganza – Ceremony & Reception for up to – 100 guests – $8,000 + Tax
(each additional guest is charged at $25 per head up to 250 guests)
5 Hour Rental
Indoor Wedding Ceremony in the Oceana Ballroom with a fantastic panoramic view of the Halifax River, right in Downtown Daytona Beach (Outdoor Ceremony available for an additional fee)  up lights,  High top tables, ivory linens, gorgeous decorations including floral arrangements, candles, and candelabras
Poseidon's Lounge  and bar area where your guests can enjoy cocktails and butler served hors d´oeuvres around our royal vintage bar while relaxing on our sleek contemporary sofas in front of the fireplace.
Reception in the upper Grand Luna Ballroom for your event complete with tables, chairs, choice of colorful linen tablecloths,  napkin color of choice, up lights, colorful sound activated party lights and  so much more.
Full design and decoration of your wedding ceremony and reception event- You may choose from six different styles by ROGO DESIGNS or mix and match: Silver, Gold, Black or Crystal Candelabra, tall vase and floral arrangement in any color, all white crystal tree, feather ball with crystals, or submersed flower in water with floating candle or Ivory White Lantern with LED Candle and flowers. All centerpiece designs include: candles, flower petals, base lights, beveled mirrors, silver or gold charger plates, table numbers, your choice of color chair sashes, and choice of color table runner and/or overlay. Choose from a wide selection of colors and flowers.
1 hour consultation with the designer to prepare the perfect "table design" as part of the confirmation process to secure your events perfect design and decorations concept for your wedding ceremony and reception
Showcase VIP Bridal canopy 12 x 12 x 16 for placement over the sweetheart table, matching top corner flower arrangements and 4 up lights for each corner in your color of choice.
Full China rental including: Plates for a three course meal, champagne flutes, water glasses, bar glasses, coffee mugs and flatware
Banquet attendants that will chill and serve your champagne, cut and serve your cake, brew and manage your coffee and non- alcoholic beverage service areas as well as manager your china.
One bartender to mix up your guests favorite cocktails
One banquet manager to ensure your guests ultimate satisfaction and safety
20ft long Red carpet VIP runner with matching red velvet rope stanchion combo for a Hollywood Grand entrance for all your guests
1 45-minute ceremony rehearsal
2 VIP Bridal Suites in which you can access 1.5 hours prior to the start time of your event.
5 hour party rental
1 hour consult with the Event and Banquet manager to finalize all details pertaining to the event, such as the arrival of all the vendors, including the final floor plan
Vintage coffee bar – European style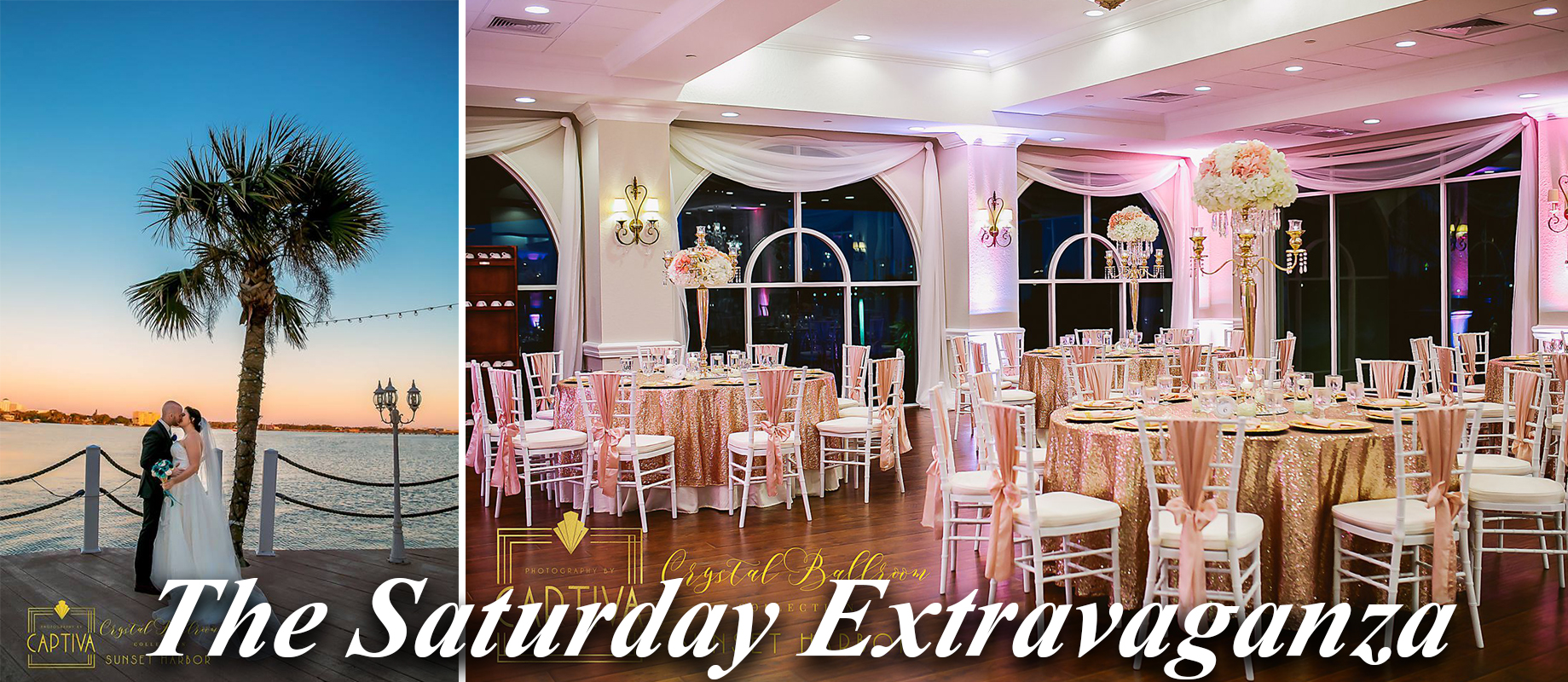 Saturday Extravaganza Event – Ceremony through Reception for up to 100 guests – $9,000 + Tax
(each additional guest is charged at $25 per head up to 250 guests)
5 Hour Rental
Indoor Wedding Ceremony in the Oceana Ballroom with a fantastic panoramic view of the Halifax River, right in Downtown Daytona Beach (Outdoor Ceremony available for an additional fee)  up lights,  High top tables, ivory linens, gorgeous decorations including floral arrangements, candles, and candelabras
Poseidon's Lounge  and bar area where your guests can enjoy cocktails and butler served hors d´oeuvres around our royal vintage bar while relaxing on our sleek contemporary sofas in front of the fireplace.
Reception in the upper Grand Luna Ballroom for your event complete with tables, chairs, choice of colorful linen tablecloths,  napkin color of choice, up lights, colorful sound activated party lights and  so much more.
Full design and decoration of your wedding ceremony and reception event- You may choose from six different styles by ROGO DESIGNS or mix and match: Silver, Gold, Black or Crystal Candelabra, tall vase and floral arrangement in any color, all white crystal tree, feather ball with crystals, or submersed flower in water with floating candle or Ivory White Lantern with LED Candle and flowers. All centerpiece designs include: candles, flower petals, base lights, beveled mirrors, silver or gold charger plates, table numbers, your choice of color chair sashes, and choice of color table runner and/or overlay. Choose from a wide selection of colors and flowers.
1 hour consultation with the designer to prepare the perfect "table design" as part of the confirmation process to secure your events perfect design and decorations concept for your wedding ceremony and reception
Showcase VIP Bridal canopy 12 x 12 x 16 for placement over the sweetheart table, matching top corner flower arrangements and 4 up lights for each corner in your color of choice.
Full China rental including: Plates for a three course meal, champagne flutes, water glasses, bar glasses, coffee mugs and flatware
Banquet attendants that will chill and serve your champagne, cut and serve your cake, brew and manage your coffee and non- alcoholic beverage service areas as well as manager your china.
One bartender to mix up your guests favorite cocktails
One banquet manager to ensure your guests ultimate satisfaction and safety
20ft long Red carpet VIP runner with matching red velvet rope stanchion combo for a Hollywood Grand entrance for all your guests
1 45-minute ceremony rehearsal
2 VIP Bridal Suites in which you can access 1.5 hours prior to the start time of your event.
5 hour party rental
1 hour consult with the Event and Banquet manager to finalize all details pertaining to the event, such as the arrival of all the vendors, including the final floor plan
Vintage coffee bar – European style
Sunday Extravaganza – Ceremony & Reception for up to 100 guests – $8,000 + Tax
(each additional guest is charged at $25 per head up to 250 guests)
5 Hour Rental
Indoor Wedding Ceremony in the Oceana Ballroom with a fantastic panoramic view of the Halifax River, right in Downtown Daytona Beach (Outdoor Ceremony available for an additional fee)  up lights,  High top tables, ivory linens, gorgeous decorations including floral arrangements, candles, and candelabras
Poseidon's Lounge  and bar area where your guests can enjoy cocktails and butler served hors d´oeuvres around our royal vintage bar while relaxing on our sleek contemporary sofas in front of the fireplace.
Reception in the upper Grand Luna Ballroom for your event complete with tables, chairs, choice of colorful linen tablecloths,  napkin color of choice, up lights, colorful sound activated party lights and  so much more.
Full design and decoration of your wedding ceremony and reception event- You may choose from six different styles by ROGO DESIGNS or mix and match: Silver, Gold, Black or Crystal Candelabra, tall vase and floral arrangement in any color, all white crystal tree, feather ball with crystals, or submersed flower in water with floating candle or Ivory White Lantern with LED Candle and flowers. All centerpiece designs include: candles, flower petals, base lights, beveled mirrors, silver or gold charger plates, table numbers, your choice of color chair sashes, and choice of color table runner and/or overlay. Choose from a wide selection of colors and flowers.
1 hour consultation with the designer to prepare the perfect "table design" as part of the confirmation process to secure your events perfect design and decorations concept for your wedding ceremony and reception
Showcase VIP Bridal canopy 12 x 12 x 16 for placement over the sweetheart table, matching top corner flower arrangements and 4 up lights for each corner in your color of choice.
Full China rental including: Plates for a three course meal, champagne flutes, water glasses, bar glasses, coffee mugs and flatware
Banquet attendants that will chill and serve your champagne, cut and serve your cake, brew and manage your coffee and non- alcoholic beverage service areas as well as manager your china.
One bartender to mix up your guests favorite cocktails
One banquet manager to ensure your guests ultimate satisfaction and safety
20ft long Red carpet VIP runner with matching red velvet rope stanchion combo for a Hollywood Grand entrance for all your guests
1 45-minute ceremony rehearsal
2 VIP Bridal Suites in which you can access 1.5 hours prior to the start time of your event.
5 hour party rental
1 hour consult with the Event and Banquet manager to finalize all details pertaining to the event, such as the arrival of all the vendors, including the final floor plan
Vintage coffee bar – European style
Ceremony and Reception or Cocktail Hour and Reception for up to 100 guests – $5,000 + Tax
(each additional guest is charged at $25 per head up to 250 guests)
11AM-3PM
Indoor Wedding Ceremony in the Oceana Ballroom with a fantastic panoramic view of the Halifax River, right in Downtown Daytona Beach (Outdoor Ceremony available for an additional fee)  up lights,  High top tables, ivory linens, gorgeous decorations including floral arrangements, candles, and candelabras
Poseidon's Lounge  and bar area where your guests can enjoy cocktails and butler served hors d´oeuvres around our royal vintage bar while relaxing on our sleek contemporary sofas in front of the fireplace.
Reception in the upper Grand Luna Ballroom for your event complete with tables, chairs, choice of colorful linen tablecloths,  napkin color of choice, up lights, colorful sound activated party lights and  so much more.
Full design and decoration of your wedding ceremony and reception event- You may choose from six different styles by ROGO DESIGNS or mix and match: Silver, Gold, Black or Crystal Candelabra, tall vase and floral arrangement in any color, all white crystal tree, feather ball with crystals, or submersed flower in water with floating candle or Ivory White Lantern with LED Candle and flowers. All centerpiece designs include: candles, flower petals, base lights, beveled mirrors, silver or gold charger plates, table numbers, your choice of color chair sashes, and choice of color table runner and/or overlay. Choose from a wide selection of colors and flowers.
1 hour consultation with the designer to prepare the perfect "table design" as part of the confirmation process to secure your events perfect design and decorations concept for your wedding ceremony and reception
Showcase VIP Bridal canopy 12 x 12 x 16 for placement over the sweetheart table, matching top corner flower arrangements and 4 up lights for each corner in your color of choice.
Full China rental including: Plates for a three course meal, champagne flutes, water glasses, bar glasses, coffee mugs and flatware
Banquet attendants that will chill and serve your champagne, cut and serve your cake, brew and manage your coffee and non- alcoholic beverage service areas as well as manager your china.
One bartender to mix up your guests favorite cocktails
One banquet manager to ensure your guests ultimate satisfaction and safety
20ft long Red carpet VIP runner with matching red velvet rope stanchion combo for a Hollywood Grand entrance for all your guests
1 45-minute ceremony rehearsal
2 VIP Bridal Suites in which you can access 1.5 hours prior to the start time of your event.
5 hour party rental
1 hour consult with the Event and Banquet manager to finalize all details pertaining to the event, such as the arrival of all the vendors, including the final floor plan
Vintage coffee bar – European style

Ceremony and Reception OR Cocktail Hour and Reception for up to 100 guests – $5,000 + Tax
(each additional guest is charged at $25 per head up to 250 guests)
From 11:00 am-3:00 pm
Indoor Wedding Ceremony in the Oceana Ballroom with a fantastic panoramic view of the Halifax River, right in Downtown Daytona Beach (Outdoor Ceremony available for an additional fee)  up lights,  High top tables, ivory linens, gorgeous decorations including floral arrangements, candles, and candelabras
Poseidon's Lounge  and bar area where your guests can enjoy cocktails and butler served hors d´oeuvres around our royal vintage bar while relaxing on our sleek contemporary sofas in front of the fireplace.
Reception in the upper Grand Luna Ballroom for your event complete with tables, chairs, choice of colorful linen tablecloths,  napkin color of choice, up lights, colorful sound activated party lights and  so much more.
Full design and decoration of your wedding ceremony and reception event- You may choose from six different styles by ROGO DESIGNS or mix and match: Silver, Gold, Black or Crystal Candelabra, tall vase and floral arrangement in any color, all white crystal tree, feather ball with crystals, or submersed flower in water with floating candle or Ivory White Lantern with LED Candle and flowers. All centerpiece designs include: candles, flower petals, base lights, beveled mirrors, silver or gold charger plates, table numbers, your choice of color chair sashes, and choice of color table runner and/or overlay. Choose from a wide selection of colors and flowers.
1 hour consultation with the designer to prepare the perfect "table design" as part of the confirmation process to secure your events perfect design and decorations concept for your wedding ceremony and reception
Showcase VIP Bridal canopy 12 x 12 x 16 for placement over the sweetheart table, matching top corner flower arrangements and 4 up lights for each corner in your color of choice.
Full China rental including: Plates for a three course meal, champagne flutes, water glasses, bar glasses, coffee mugs and flatware
Banquet attendants that will chill and serve your champagne, cut and serve your cake, brew and manage your coffee and non- alcoholic beverage service areas as well as manager your china.
One bartender to mix up your guests favorite cocktails
One banquet manager to ensure your guests ultimate satisfaction and safety
20ft long Red carpet VIP runner with matching red velvet rope stanchion combo for a Hollywood Grand entrance for all your guests
1 45-minute ceremony rehearsal
2 VIP Bridal Suites in which you can access 1.5 hours prior to the start time of your event.
5 hour party rental
1 hour consult with the Event and Banquet manager to finalize all details pertaining to the event, such as the arrival of all the vendors, including the final floor plan
Vintage coffee bar – European style
Ceremony & Reception OR Cocktail Hour & Reception for up to 100 Guests – $5,000 + Tax
(each additional guest is charged at $25 per head up to 250 guests)
5 Hour Rental
Indoor Wedding Ceremony in the Oceana Ballroom with a fantastic panoramic view of the Halifax River, right in Downtown Daytona Beach (Outdoor Ceremony available for an additional fee)  up lights,  High top tables, ivory linens, gorgeous decorations including floral arrangements, candles, and candelabras
Poseidon's Lounge  and bar area where your guests can enjoy cocktails and butler served hors d´oeuvres around our royal vintage bar while relaxing on our sleek contemporary sofas in front of the fireplace.
Reception in the upper Grand Luna Ballroom for your event complete with tables, chairs, choice of colorful linen tablecloths,  napkin color of choice, up lights, colorful sound activated party lights and  so much more.
Full design and decoration of your wedding ceremony and reception event- You may choose from six different styles by ROGO DESIGNS or mix and match: Silver, Gold, Black or Crystal Candelabra, tall vase and floral arrangement in any color, all white crystal tree, feather ball with crystals, or submersed flower in water with floating candle or Ivory White Lantern with LED Candle and flowers. All centerpiece designs include: candles, flower petals, base lights, beveled mirrors, silver or gold charger plates, table numbers, your choice of color chair sashes, and choice of color table runner and/or overlay. Choose from a wide selection of colors and flowers.
1 hour consultation with the designer to prepare the perfect "table design" as part of the confirmation process to secure your events perfect design and decorations concept for your wedding ceremony and reception
Showcase VIP Bridal canopy 12 x 12 x 16 for placement over the sweetheart table, matching top corner flower arrangements and 4 up lights for each corner in your color of choice.
Full China rental including: Plates for a three course meal, champagne flutes, water glasses, bar glasses, coffee mugs and flatware
Banquet attendants that will chill and serve your champagne, cut and serve your cake, brew and manage your coffee and non- alcoholic beverage service areas as well as manager your china.
One bartender to mix up your guests favorite cocktails
One banquet manager to ensure your guests ultimate satisfaction and safety
20ft long Red carpet VIP runner with matching red velvet rope stanchion combo for a Hollywood Grand entrance for all your guests
1 45-minute ceremony rehearsal
2 VIP Bridal Suites in which you can access 1.5 hours prior to the start time of your event.
5 hour party rental
1 hour consult with the Event and Banquet manager to finalize all details pertaining to the event, such as the arrival of all the vendors, including the final floor plan
Vintage coffee bar – European style
Sweet Sixteen – Friday Night for up to 100 guests – Ask About Pricing – (386) 301-4040
(each additional guest is charged at $25 per head up to 250 guests)
5 Hour Rental
Outdoor Cocktail Hour &/or Dockside Wedding Ceremony on the Sunset Deck with a fantastic panoramic view of the Halifax River, right in Downtown Daytona Beach (indoor ceremony available for an additional fee)  pipe and drape backdrops with up lights,  High top tables, ivory linens, gorgeous decorations including floral arrangements, candles, and candelabras.
Poseidon's Lounge  and bar area where your guests can enjoy cocktails and butler served hors d´oeuvres around our royal vintage bar while relaxing on our sleek contemporary sofas in front of the fireplace.
Your choice of the lower Grand Oceana Ballroom or the upper  Grand Luna Ballroom for your  wedding reception complete with tables, chairs, choice of colorful linen tablecloths,  napkin color of choice, up lights, colorful sound activated party lights and  so much more.
Full design and decoration of your wedding ceremony and reception event- You may choose from six different styles by ROGO DESIGNS or mix and match: Silver, Gold, Black or Crystal Candelabra, tall vase and floral arrangement in any color, all white crystal tree, feather ball with crystals, or submersed flower in water with floating candle or Ivory White Lantern with LED Candle and flowers. All centerpiece designs include: candles, flower petals, base lights, beveled mirrors, silver or gold charger plates, table numbers, your choice of color chair sashes, and choice of color table runner and/or overlay. Choose from a wide selection of colors and flowers.
1 hour consultation with the designer to prepare the perfect "table design" as part of the confirmation process to secure your events perfect design and decorations concept for your wedding ceremony and reception
Showcase VIP Bridal canopy 12 x 12 x 16 for placement over the sweetheart table, matching top corner flower arrangements and 4 up lights for each corner in your color of choice.
Full China rental including: Plates for a three course meal, champagne flutes, water glasses, bar glasses, coffee mugs and flatware
Banquet attendants that will chill and serve your champagne, cut and serve your cake, brew and manage your coffee and non- alcoholic beverage service areas as well as manager your china.
One bartender to mix up your guests favorite cocktails
One banquet manager to ensure your guests ultimate satisfaction and safety
20ft long Red carpet VIP runner with matching red velvet rope stanchion combo for a Hollywood Grand entrance for all your guests
1 45-minute ceremony rehearsal
2 VIP Bridal Suites in which you can access 1.5 hours prior to the start time of your event.
5 hour party rental
1 hour consult with the Event and Banquet manager to finalize all details pertaining to the event, such as the arrival of all the vendors, including the final floor plan
Vintage coffee bar – European style